In Memory Giving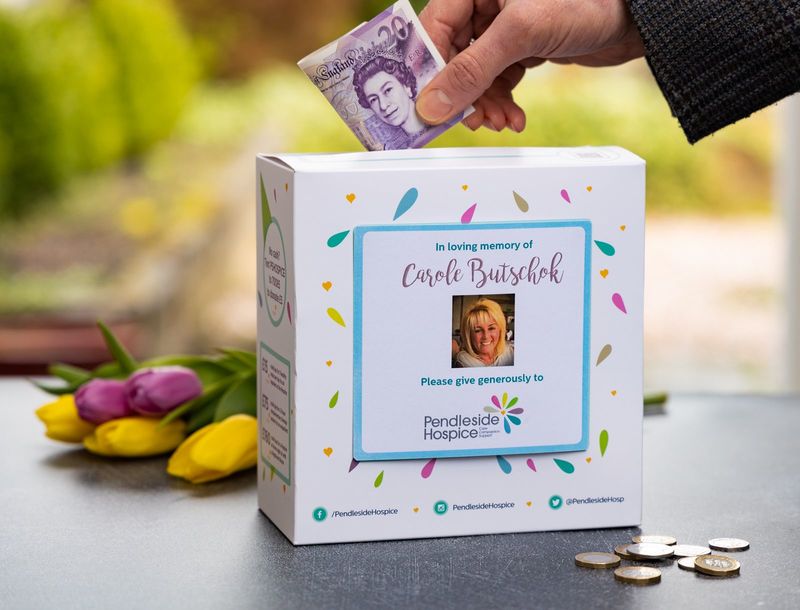 Personalised Donation Box
Losing a loved one is a very difficult time and many families choose to limit funeral flowers and invite people to make a donation to a chosen charity in their loved ones memory instead.
Arranging for donations in lieu of flowers can be a wonderful way for loved ones to join you in this celebration of life. Whether your loved one was cared for by Pendleside Hospice or not, the contributions from family and friends is a positive way to celebrate their life, whilst supporting an important local charity to continue providing care to ​local families affected by life-limiting illness ensuring they have the right support they need during difficult times.
We can provide you with a personalised donation box for your collection, whether this is displayed at the church, crematorium or wake.
Please contact our In Memory and Legacy Fundraising, Sarah Holdsworth on 01282 440141 or email: [email protected] to request your box.
Alternatively if you would like to make a donation in memory of someone who has recently died, please click here to donate online.
Please note: When sending us a donation in memory we may inform the family of who donated and the total donation amount (we will not include the individual amounts). If you would like to remain anonymous please inform us when making the donation. Thank you for your support.
In-Memory events
Each year, we hold events specially designed to help our local community to come together and remember loved ones we have lost. To find out more about all of our events, including those held in memory please email: [email protected] or call us on 01282 440120.