Volunteering
Volunteering at Pendleside
Volunteers play an integral part in the provision of our services. They strengthen the work of the Hospice by offering help and support in a variety of settings, for example within our clinical services, fundraising, family and bereavement suppoort, administration, and our charity shops.
Because volunteering positions at Pendleside are in great demand there is usually a waiting list for Hospice-based positions but we are nearly always in need of long-term volunteers in our eight charity shops and for our Friends of Pendleside fundraising group.
Volunteering enquiries may be sent to julie.hodgkinson@pendleside.org.uk, or by post. All will be responded to without delay.
New and existing volunteer vacancies available
These include:
Hospice At Home
New volunteer roles are being set up within Hospice at Home to help extend support to hospice at home patients in the community. These include the following roles: -
Befriending/ companionship
Extending carer support to enable carers to have a break from caring
Providing light housework
Providing light gardening and minor maintenance
Shopping
Supporting patients to attend social events , e.g. going out for coffee, to the cinema, to visit a friend
Supporting patients to attend hospital appointments
Dog walking
Baking/light meal preparation
You may not be able to help with all of the above but supporting with one or two of these things could make a real difference to our patients.
Hospice Day Services
There are also new and existing volunteer vacancies within our Day Services. These include the following roles: -
Volunteer complementary therapists: Are you a qualified complementary therapist in either aromatherapy, massage or reflexology? Could you help supporting our complementary therapy team in delivering therapies to patients/­carers?

Administration support role to provide help with filing, faxing, photocopying, answering the telephone, as well as any other appropriate admin tasks that may arise.

Volunteer Hairdresser - to wash set, blow dry or cut our patients hair, especially supporting patients undergoing treatment

Volunteer Drivers - to transport patients and carers to and from the Hospice for visits, treatments, therapies and appointments using their own cars. Car insurance including business insurance required. Mileage will be paid

Hospice mini bus transport escort - to accompany patients being transported to and from their homes to the Hospice on the mini bus. Full moving and handling training will be given.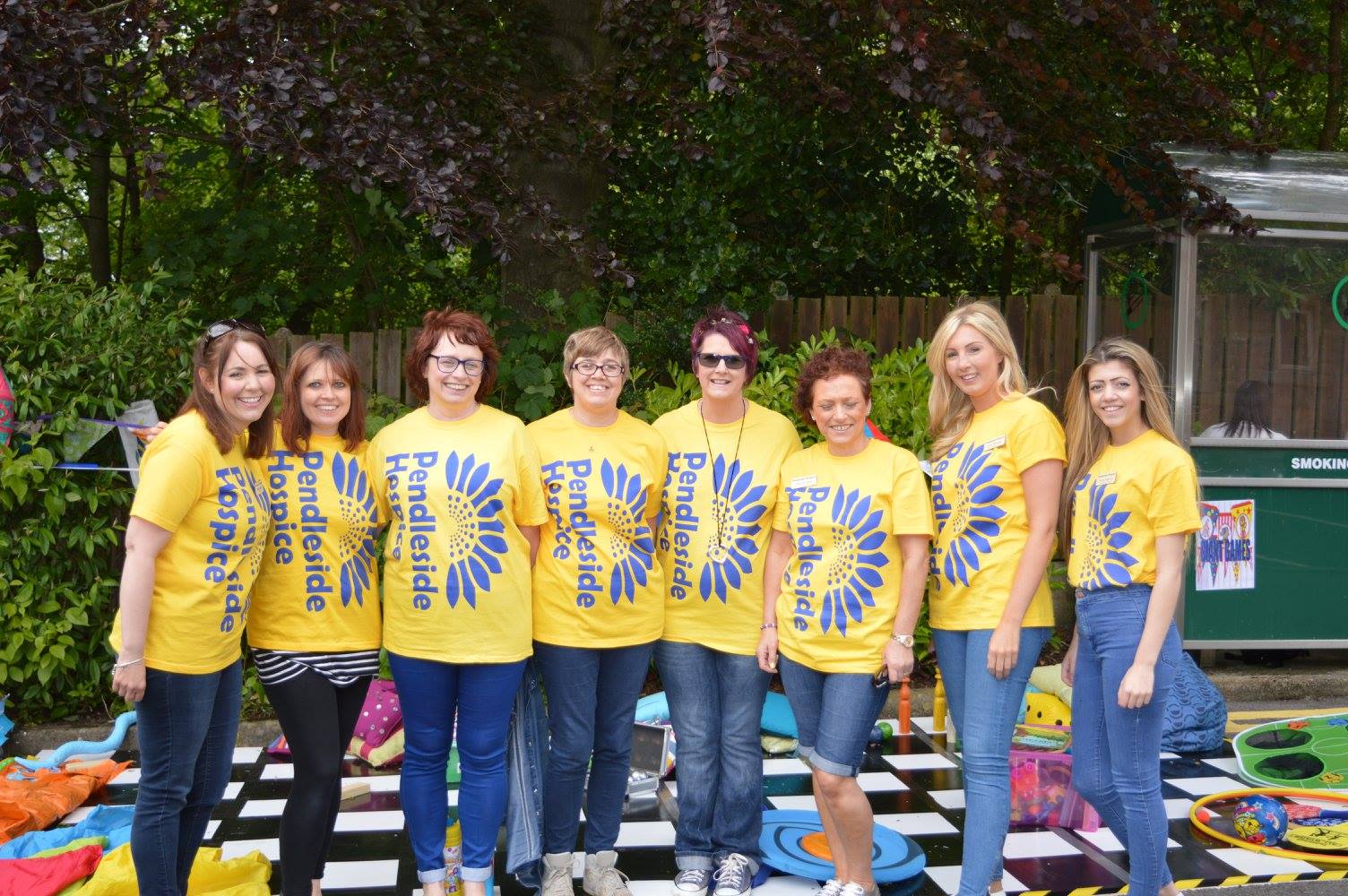 Hospice Rehabilitation Service
'Empowered Living' Volunteers - empowered living is a form of rehabilitative support which helps to enable our patients to live their lives with the best possible quality of life. Coordinated by the Hospice Macmillan Physiotherapist we are hoping to recruit volunteers to support her in the delivery of this new programme. The role will include supervising patients to do set exercises or practice physical activities, listening to patient's worries, concerns and providing the patient with gentle hand massage and relaxation techniques. Most of the support will be provided in a patient's own home or a local setting on a regular basis and for a set number of weeks.
No experience necessary as training will be given.
Shops
Many of our eight Hospice shops urgently require volunteers to help keep our shops operating as they do. Roles include; sorting of donations, displaying of stock, stock rotation and serving behind the till.
Pendleside Hospice are currently seeking to recruit volunteer van drivers to help support their network of 8 shops within Burnley and Pendle. Duties will include working with shop teams to help organise stock and dealing with the public to ensure the smooth running of vital donated goods into the charity. No experience is needed as training and a van will be provided. If you are looking for a rewarding volunteer opportunity in a fast paced retail environment whilst helping raise funds for your local hospice, please email retail@pendleside.org.uk or call Catherine for an informal chat on 07850 234339

Fundraising
Volunteer vacancies always exist within our 'Friends of Pendleside' fundraising group. Friends of Pendleside volunteers help out at many of our fundraising events e.g. Pendle Pub Walk, bag packing, Light up a Life, Car Raffle, stalls at community events and in supermarkets etc. We also have volunteers that help us throughout the year in the Fundraising Office. Without this support we wouldn't be able to run or attend some of the fantastic events that we do. No regular commitments is required you can just help when you can.
Further information:
Alternatively please contact the following people to find out more: -
Fundraising Volunteers
We are always looking for new volunteers to help us raise funds at our events. There is no commitment and you may only be available to volunteer once or twice a year but your support, time and participation in our events is invaluable. We can guarantee you will have a lot of fun, be part of a great team, help the Hospice and your community.
Some of the events include:-
Bag Packing
Street Collections
Community Events
Festivals
Marshalling
Pendleside Hospice Events
If you would like to get involved in volunteering and rasing funds for the Hospice please contact the fundraising team on 01282 440120 or Email heather.conn@­pendleside.­org.­uk
For more information on Fundraising and our Events please see our Events page on the website http://­www.­pendleside.­org.­uk/­register-for-events