"My dad always said that he wasn't afraid of dying; just afraid of what he was leaving behind. So when I was asked to launch and support the Light Up a Life campaign, I had no hesitation, due to the care our family received at Pendleside Hospice." Sarah shares her family's story as to why they feel honoured to support this year's event.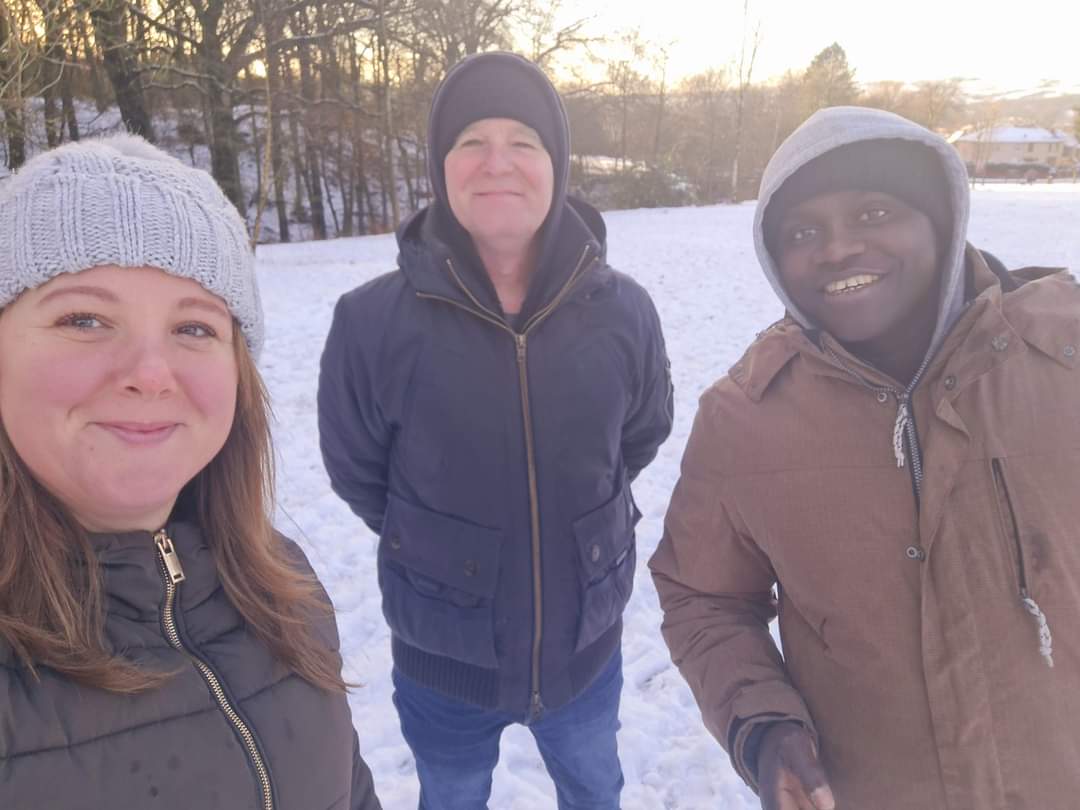 Sarah Jarjue's father, Anthony Ashworth, from Nelson, passed away in April of this year, after being diagnosed with lung cancer at the start of 2020.
What started with a niggly cough, soon turned into Anthony needing to have part of his lung removed. Bouts of chemotherapy and radiotherapy seemed to be working at the start, then Anthony began to feel very unwell and withdrawn. Subsequent scans revealed that the cancer had spread to his bones, as well as his brain, and another operation was needed.
By January 2022, Anthony started to experience significant pain and discomfort, due to the cancer in his bones and was admitted to Pendleside's inpatient unit for pain management.
Sarah added: "The targeted radiotherapy reduced my dad's pain and he was able to come home after three weeks. My dad absolutely loved it at the Hospice! Food was his solace and he always used to talk about how delicious the meals were. Restrictions were still in place by this point, but myself and my family enjoyed sitting in the gardens with my dad on those chilly winter days."
Due to the covid restrictions, Anthony's family couldn't go round and see him as much as they liked to. As a close-knit family, it became more and more difficult to comprehend. They wanted nothing more than to give him a hug, sit by his side and watch football with him on a Sunday afternoon.
Anthony later moved onto immunotherapy, which seemed to be improving his overall mental and physical wellbeing. However, after eight months of hope, it was revealed that the cancer had spread and by October 2022, Anthony was told that he had months to live.
Sarah said, "Throughout his illness, my dad was in and out of hospital with infections. Ultimately, on his latest admission, in March 2023 after a week of IV antibiotics, the doctor confirmed my dad had days to live, and that we needed to bring him home. My dad wasn't quite himself in those last few days, but he knew what this meant.
Hospice at Home care was quickly put in place, and I can't thank Kate Gerrety, [Pendleside's Hospice at Home Registered Nurse] enough for organising the support we needed and a nurse arrived not long after we got back from hospital. A bed had been delivered, an oxygen tank was in place, and the Pendleside nurses worked around the clock, right up until my dad's passing.
My mum, Linda, had taken time off to be with my dad, and I moved into the family home to be with him too. My mum works as a nurse at Pendleside Hospice herself, so having the nurses stay with us brought her the peace of mind she needed.
After my dad died, my eldest daughter, Elizabeth (13) and I, received bereavement support from Pendleside's Family Support team. I found I was being incredibly hard on myself and the sessions helped me understand that everyone deals with grief differently.
Pendleside is an incredible charity and we are so grateful for all they have done for us. It will be an honour to shine a light on the wonderful man that was my dad."

Remember your loved ones by dedicating a light
As Christmas time approaches, we are preparing for our annual Light Up A Life service to which you're invited to remember special people no longer with you. Please register and donate to Pendleside today.