As part of Breast Cancer Awareness month, Sandra Bignell, 62, from Nelson, shares her journey about living with breast cancer for the last 17 years, and the close bond she has formed with both staff and patients at Pendleside Hospice.
Sandra's narrative dispels the myth that hospices are solely there to provide end-of-life care and her story proves that this is not the case. Pendleside Hospice offers a whole range of services, for those living with life-limiting illnesses, as well as providing support for their families and carers.
Sandra's initial encounter with Pendleside Hospice began in 1998, when her father, Eric, sought solace in its compassionate care, after losing his battle to breast cancer. The Hospice made a profoundly positive impact on Sandra, setting the foundation for her own journey with Pendleside.
Growing up in Germany and Canada, Sandra settled in Nelson at the age of nine. Sandra remembers Nelson being a place where people looked out for one another and has fond memories of the town growing up. However, soon after her family's move to England, Sandra lost her mother to bowel cancer.
Married at the age of 18, Sandra and her husband, Eamonn, built a life together, raising two sons and cherishing precious family moments. Tragedy struck once more when Eamonn suffered a brain haemorrhage at the age of 42. Sandra, showing remarkable strength, became the unwavering rock for her sons during this trying time.
In a cruel twist of fate, three years later, Sandra received a grade 3 breast cancer diagnosis. Sandra recalls, "I'd had a lump in my breast for over a year before my diagnosis. It was a strange feeling when I discovered it - I was simply out shopping when something inside me just told me to reach out. Although unrelated, I'd already had two operations at the ages of 18 and 24, due to issues with my glands - so I initially thought it might have something to do with that.
Ultimately I was told it was breast cancer, and after the first and second operation failed to remove the cancer completely, I wasted no more time and had a double mastectomy during the third operation. However, it soon became clear that the cancer had spread through to my shoulders, neck and back. By this point, I was receiving support from Christie's and Pendleside Hospice, who have supported me a great deal over the years.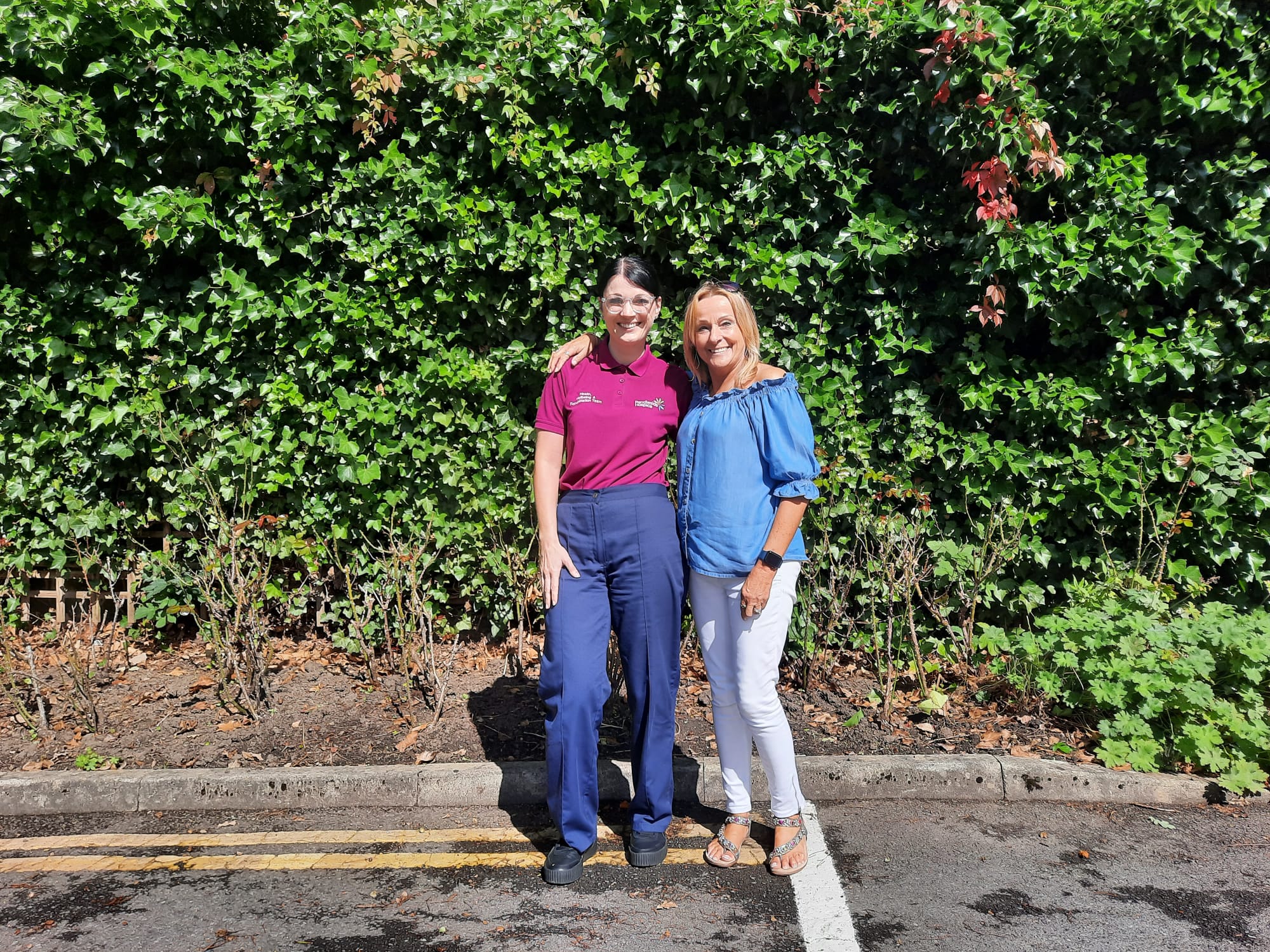 I'm a little superstitious in ways, which I put down to my Irish mother, and I have always had it in my head that I would die young. It's why I've constantly lived life to the full and made as many fond memories as I can. However, 17 years on since my diagnosis, I'm still here, enjoying every moment I can with my family and friends! It's all too easy to allow negative energy to consume you, and while I don't always remain optimistic - I know how to channel the good.
I have received counselling at Pendleside Hospice, and their therapists tell me that I have learned to know myself well. I access complementary therapy sessions at the Hospice, as well as the Palliative Peer Support Group on a Wednesday morning. I love to be around people and I have always been able to offer a warm and friendly face to others. I'm a Saturday's Child - my mother would say - hard-working and strong! And I like to think I've shown that.
I have built some fantastic relationships at Pendleside Hospice, with both staff and patients - I have lost many friends there along the way too. Myself and the other service users are all in the same boat - but it's important that we enjoy our time while we can!"
Julia O'Neill, Day Services & Family Support Manager at Pendleside, has worked at the Hospice for almost as long as Sandra has been accessing services, and together they have built up a strong connection. Julia remarks, "It's what Sandra has brought to Pendleside that is most remarkable. Her presence and friendly nature put other service users at ease, particularly those accessing services for the first time. Despite her cancer diagnosis, Sandra is living well, and she knows that Pendleside will be by her side every step of the way."
Sandra's story is a beacon of hope for anyone facing a similar journey. Her resilience is a testament to the power of community and the invaluable support offered by places like Pendleside Hospice. As Breast Cancer Awareness Month unfolds, let Sandra's journey be a reminder that no one fights alone.
Pendleside Hospice urges individuals in similar circumstances to reach out and explore the support available. For more information, please call 01282 440 100.