Winter Wander
Winter Wander - 3-mile Sponsored Family Walk
We are extremely excited to announce the launch our 2017 Christmas Event "Winter Wander"!
Rotary Club of Padiham and Pendleside Hospice are joining forces to host the 4th Winter Wander.
Join hundreds of families on Saturday 9th December 2017 to walk a 3 mile route around the lovely town of Padiham, raising vital funds for Pendleside Hospice.
The 3 mile walk, marshalled by Elves, will start at 10am with registration opening at 9am at Shuttleworth College. Upon completion of the walk, each child will be rewarded with a little Christmas treat and look out for the Christmas elves who will be handing out goodies along the route!
To help you get into to the Christmas spirit, we'll be providing Santa Suits for all of the adults and reindeer antlers and red noses for the children – Ho Ho Ho!
To make sure of your place at the most exciting local Christmas event of the year, click onto the Winter Wander page to register at a cost of just £5 per person. Nearer the time you will receive a sponsor pack and a voucher to collect your Santa Suit/Reindeer Antlers and nose.
Please note that places are limited for this event so register as soon as possible to avoid disappointment. Anyone can register but we do ask that all children under 16 are accompanied by an adult for the duration of the event.
Register for an event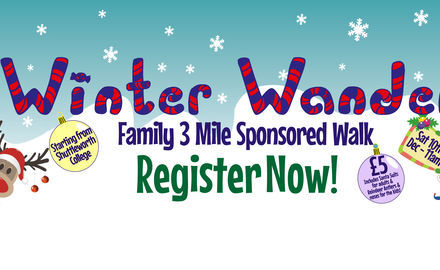 We are extremely excited to announce the launch our 3rd Christmas Event "Winter Wander"!

Rotary Club of Padiham and Pendleside Hospice are joining forces to host the Winter Wander.

Join hundreds of families on Saturday 9th December 2017…