The gardens of Pendleside Hospice will be blooming this summer with hundreds of sunflower plaques, dedicated to your loves ones, planted in the Hospice grounds and providing a colourful display to welcome the warm sunshine and joy that summer brings.
Each sunflower plaque will have the name of your loved one hand written on and then after being planted in the Hospice grounds will bloom all throughout June, which is traditionally Hospice Sunflower Month. The bright and cheerful sunflowers will enhance the Hospice gardens and each one is a fitting tribute and celebration of the life of someone special.
To acknowledge each donation a sunflower card will be sent out along with an enamel sunflower pin badge, if requested.
Due to the current Coronavirus outbreak the annual Celebration of Life service has been cancelled. Instead the service will be streamed online via Pendleside Hospice's social media pages, from Saturday 30th May at 2pm.
Due to the current social isolation/­distancing enforcements across the UK supporters are unable to wander around the beautiful Hospice gardens to view all the sunflowers that have been dedicated, however we will post a list of those being remembered on our website and social media.
If you would like to dedicate a sunflower plaque fill in the form below or telephone the fundraising department on 01282 440128.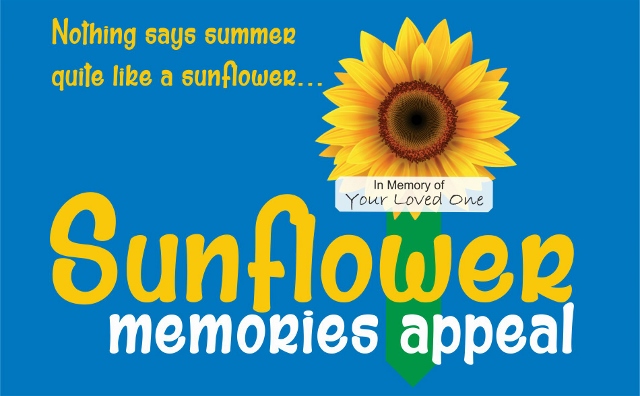 Sponsored by Alderson and Horan Funeral Service