Pendle Pub Walk
The walk, which is organised by Pendleside Hospice and members of Burnley Pendleside Rotary Club, raises money for the Reedley-based hospice, with £5 of each registration fee going to Rotary Club charities.
For more information about the Pendle Pub Walk check out the Rotary Club of Burnley Pendleside website - http://­www.­pendlepubwalk.­co.­uk/
Rotary members are enthusiastic, fun-loving and active volunteers who give their time and talents to serve communities both at home and overseas - a worldwide network of inspired men & women who translate their passions into relevant social causes to change lives in communities. To find out more about the Rotary Club visit https://­www.­rotarygbi.­org/
Register for an event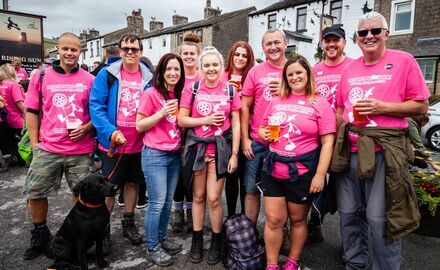 On Saturday 15th June 2019 (the day before Father's Day) join us for our 11th annual Pendle Pub Walk around the stunning Pendle countryside using its finest hostelries as way-points!