Fundraising Groups
Contact details:
Padiham and Hapton Group Contact Brian or Maryan Hough on 01282 778149 or email b.hough@btinternet.com
Fence and Pendleside Group Judith David on 01282 440120
Blacko Group Contact Aileen Baldwin on 01282 615153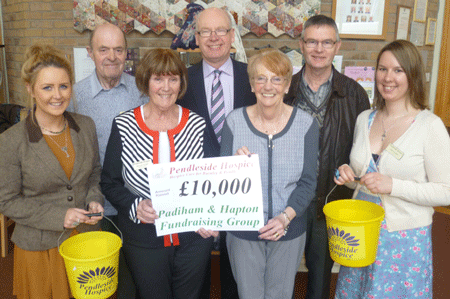 Photo: Members from Padiham fundraising group, presenting a cheque to Pendleside Hospice for £10,000
Pendleside has a number of voluntary Fundraising Groups.
They hold events, accept donations and represent the hospice in different parts of our area.
The groups welcome new members and supporters and work with others in their community who wish to support the hospice.
We are also supported by the following Facebook Groups who's members regularly raise funds for Pendleside: