Corporate Challenge
We are so happy to announce the return of the Corporate Challenge!
Corporate Challenge 2022
#pendlesidecorp
We're delighted to announce that our annual Corporate Challenge is back and we really want this year to be a huge celebration!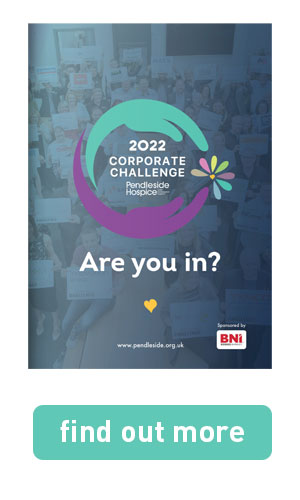 The Corporate Challenge raises a huge amount of vital funds for Pendleside Hospice every year and we are immensely grateful to all the local businesses who support it.
Little did we know that 2019 would be our last Corporate Challenge for a while. BUT now we're back and determined to make the 2022 Challenge bigger and better than ever!
And to do this, we need your support!
It's really easy to get involved, simply sign your business up as soon as possible before 1st June when the challenge begins and you'll have until 30th September to raise as much money as you can.
Thanks to our amazing sponsors, BNI Kudos in Burnley, we can give every team that signs up a £50 pot of money to help get them started.

How you raise your money and hit your target is completely up to you – we want this to be fun for you and your team! The fundraising team at Pendleside is here to help and support you every step of the way.
We truly believe that there are huge staff and employer benefits to joining the Corporate Challenge, especially when many businesses have now adapted to home and hybrid working. So, joining the Challenge is a great way to build back your teams and expand your networks.
It takes £4.5m per year to keep the hospice open. We receive a little over £1m from statutory funding which means we need to raise over £3.5m each year through local support and donations.
The Corporate Challenge plays a major part in our fundraising mission and we are very grateful for your support in 2022.
Here's how to sign up!
We'd love to sign up as many businesses as possible to the 2022 Corporate Challenge. To register your interest please email [email protected]