Corporate Challenge 2018
Businesses celebrate raising a huge £157,000 for Pendleside Hospice in just four months
Businesses from across Burnley and Pendle gathered on Friday night to celebrate raising an incredible £157,036 for Pendleside Hospice – a £60,000 increase on last year.
Around 160 people turned out to Pendleside Hospice's third annual Corporate Challenge Awards, held at Burnley Mechanics.
This year the Corporate Challenge saw 37 local businesses in a head-to-head battle to raise the most money for the Hospice from 1st June to September 30th.
Each participating company was given £50 donated by sponsor Charter Walk Shopping Centre in Burnley to start them on their way.
Among the winners from the event were Burnley and Pendle Slimming World who took home both the overall Corporate Challenge Champion Award and, for the third consecutive year, the award for raising the most cash with £28,821 – £2,000 more than their total from 2017.
The Slimming World team also took home the Innovation Award for pulling out all the stops and setting a challenge for their members by bringing a Fire Walk to Burnley in August.
---
We've been supporting Pendleside Hospice for three years and next year we're aiming to reach £100,000 raised by Slimming World – we have loads of fundraising ideas in the pipeline already.

Winning three awards is testament to the incredible team spirit we have at Slimming World – we couldn't do this without our fantastic team and members, so these awards are for them.

We support the Hospice because it touches the lives of absolutely everybody in our local area. We've hosted so many events throughout the challenge and to come out as the top fundraisers makes me incredibly proud.

Janet Barnes, Slimming World consultant for Burnley and Pendle
promised plans were already in place to go one better next year
---
Other notable winners included Michael Woodvine from Business First, who took home the Laugh Out Loud Award for having his legs waxed from top to bottom.
---
I like to call it an audition, but it was 15 minutes of pain – I have very hairy legs! Our marketing team asked if I was up for doing something crazy, and of course I said yes, but that was before finding out what it was. It's all for a good cause and my nerves were calmed with a glass of prosecco afterwards! This was our first year supporting through the Corporate Challenge and we've had a great time fundraising.

Michael
---
Hosting the Corporate Challenge and seeing the lengths these businesses have gone to in their fundraising efforts makes me extremely proud to be part of the Hospice.

Helen McVey, CEO of Pendleside Hospice
---
To raise such a huge amount over just four months of fundraising is just incredible and to raise £60,000 more than last year has blown me away.

We're so grateful to have had a number of prominent local businesses taking part in the challenge and getting so much commitment from all their members of staff. The Corporate Challenge isn't just about raising much-needed funds for the Hospice – it brings numerous benefits to the businesses including team-building, networking, publicity and helping to meet corporate and social respon­sibi­lities.

We can't wait to see what 2019 will bring.

Christina Cope Head of Corporate
---
The evening, which was hosted by 2BR's Managing Director Simon Brierley, featured a drinks reception provided by DRN Solicitors and a two-course meal, music by Steeros, a raffle and auction.
2018 Pendleside Hospice Corporate Challenge Award Winners
The Rising Star Award, Jess Wilkinson from BCW Manufacturing Group
Innovation Award, Burnley and Pendle Slimming World
Best Event Award, SeriunBest Event Award, SeriunBest Event Award, SeriunMan of the Year, Ian Bythell from Petty Estate & Letting Agents
Woman of the Year, Kayleigh James from Root Fifty Two
Fundraiser of the Year Award, Stuart McNamara from Donald Race & Newton SolicitorsTeam
Spirit Award, BCW Manufacturing Group
Best Newcomer Award, Businesswise Solutions
Digital Marketing Award, Petty Estate & Letting Agents
Laugh Out Loud Award, Michael Woodvine from Business First
Most Raised Overall Award, Burnley and Pendle Slimming World
Corporate Challenge Champion Award, Burnley and Pendle Slimming World
Calling all local companies to join in our Corporate Challenge
Our Corporate Challenge is well under way it started on June 1st and they have four months to turn a £50 starter fund into as much as they can. In the past two years companies have come up with some fantastic fundraising ideas from sky dives to bake-offs and from family fun days to all you can eat competitions.
---
We'd love to sign up more businesses for 2019 so please get in touch

Christina Cope
---
Last year's Corporate Challenge raised an amazing £157,036 As well as raising pounds, teams can earn extra money by us soft crediting them for bags of clothes donated to shops worth £3.50 each. - by getting involved in volunteering at the hospice, by taking part in our big events such as Colour Dash and by donating goods for our shops.
---
We wanted Corporate Challenge to evolve and to offer more opportunities for participants to get involved in other ways. It is tremendous fun and a really rewarding way of helping the hospice – some previous participants say it's the best team building they have ever done, and it's certainly good for companies with loads of energy and ideas.

Christina
---
As in previous years, each £50 starter fund has been donated by a generous sponsor, so that every penny raised will go direct to patient care.
Sign up for Corporate Challenge 2019 — fill in the application form and return to fundraising@pendleside.org.uk
Our Corporate Challengers

---
Charter Walk Shopping Centre is thrilled to be supporting Pendleside Hospice's as their Corporate Challenge headline sponsor. We hope to raise awareness for such a commendable cause.

Debbie Hernon, Centre Manager
---
Charter Walk Shopping Centre is located in the heart of Burnley amid bustling transport links as well as 760 parking spaces across two separate car parks. With a vast selection of over 80 high street and independent stores, including: Boots, Pandora, Next, River Island, Thorntons and a brand new Primark due to open in May 2018.
As the Corporate Challenge's proud headline sponsor, please contact Olivia@shoppertainmentmanagement.co.uk with details of your fundraising activities so we can support them on social media, through press releases or providing a venue for you activity in the mall.
Our final Corporate Challenge Leader Board for 2017 was published on Friday 20th October with a fantastic total figure raised of £97,016.66!
The total raised was announced at our Awards Event held at Burnley Mechanics on Thursday 19th October. More than 170 people joined us to celebrate the success of Corporate Challenge and saw ACDC crowned Overall Champions and Burnley and Pendle Slimming World won the trophy for most raised with the fantastic amount of £26,311.18. The winners in the other categories are listed below.
A big thank you to Charter Walk Shopping Centre, who sponsor Corporate Challenge.
2017 Corporate Challenge Award Winners
The Rising Star Award, Matt Smith from Veka
​Innovation Award, Pendle Engineering
Best Event Award, Colne Tyre Centre
#PendlesideCorp Award, West Craven Insurance Services
Best Female Performer Award, Janet Barnes from Burnley and Pendle Slimming World
Judges Special Award for Exceptional Fundraising Efforts, Kaila Kirwan
Best Male Performance Award, Neil Welsh from PM+M
Fundraiser of the Year Award, Ellie Stockwell from Handelsbanken
Team Spirit Award, acdc
Best Newcomer Award, Veka
Most Raised Overall Award, Burnley and Pendle Slimming World
Corporate Challenge Champion Award, acdc
If you would like to get your organisation involved in Corporate Challenge 2018 fill in the details on the pdf (click here), telephone the fundraising department on 01282 440120 or email fundraising@pendleside.org.uk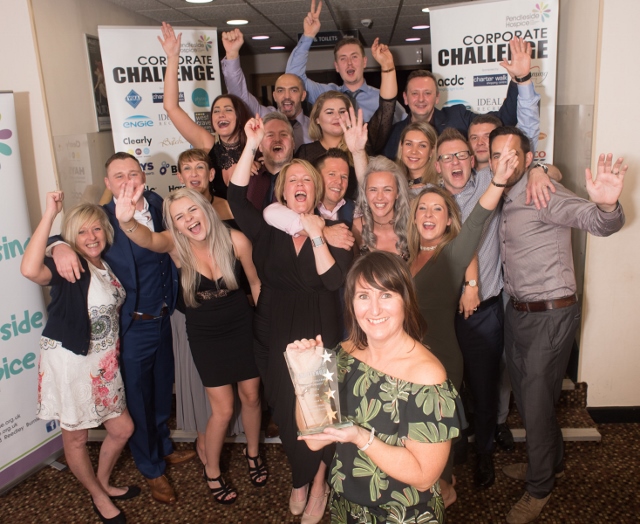 Overall Corporate Challenge Champions ACDC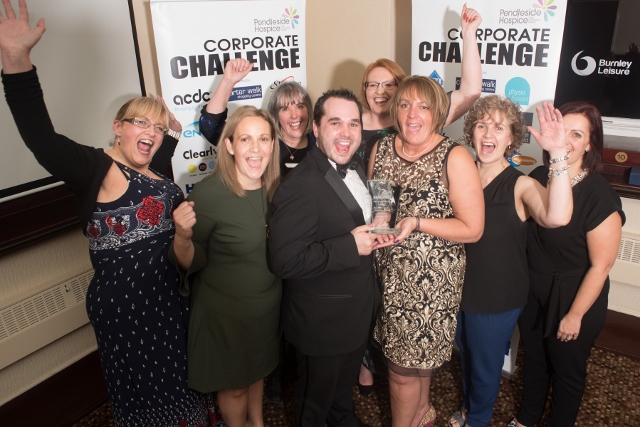 Winners of Most Raised - Burnley & Pendle Slimming World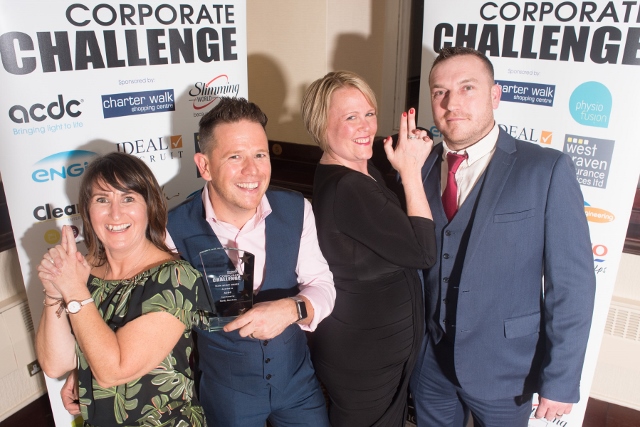 Team Spirit Award Winners - ACDC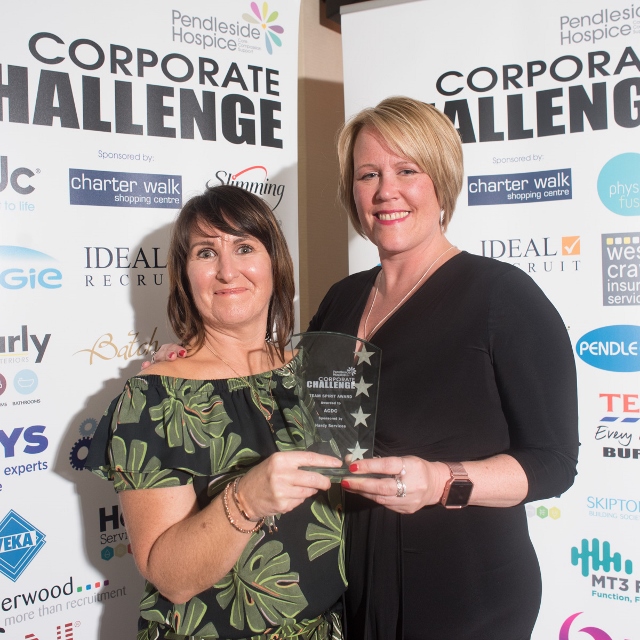 Lisa and Angela from ACDC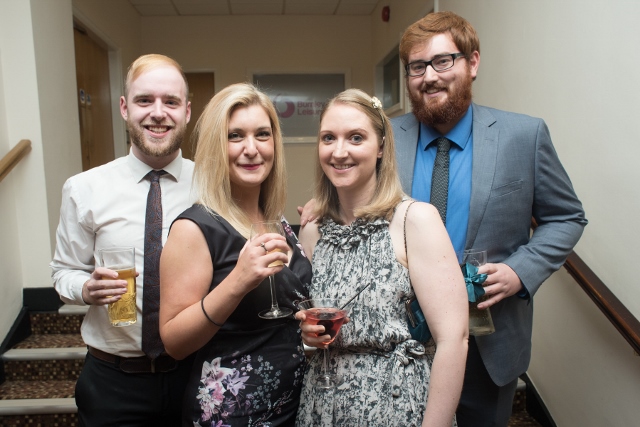 BCW Engineering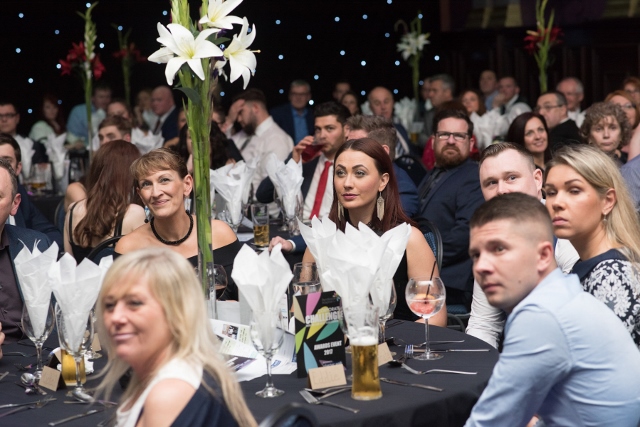 BCW Engineering
BCW Engineering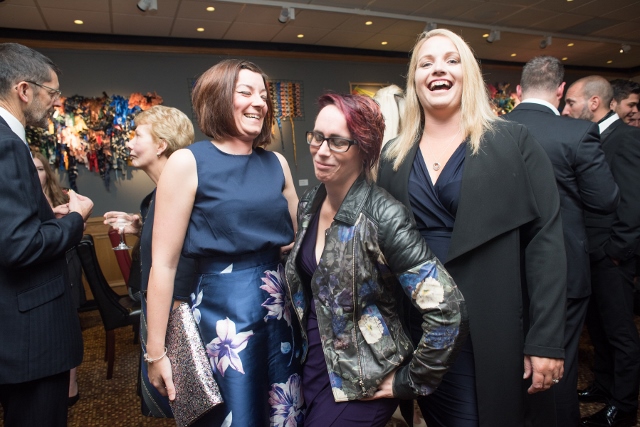 BCW Engineering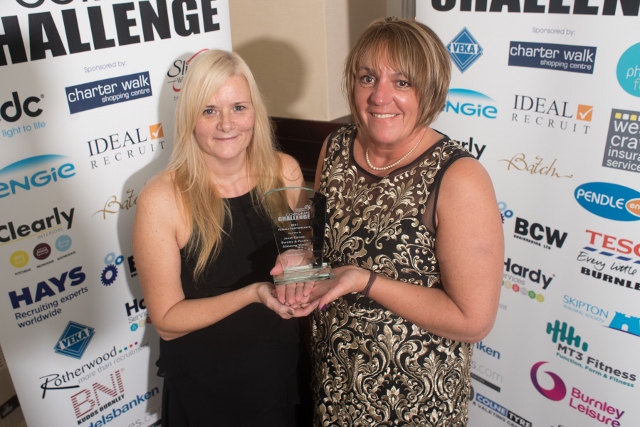 Best Female - Janet Barnes Centre with Billie Jean Horne, Tesco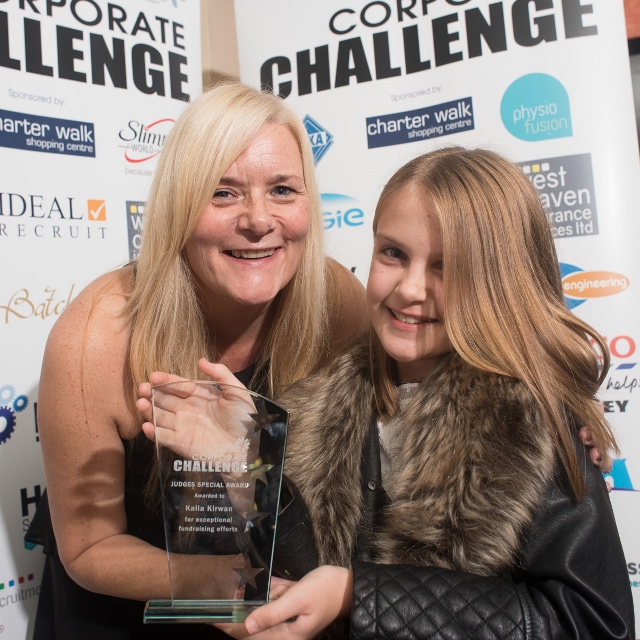 Kaila Kirwan - Judges Special Award with Billie Jean Horne, Tesco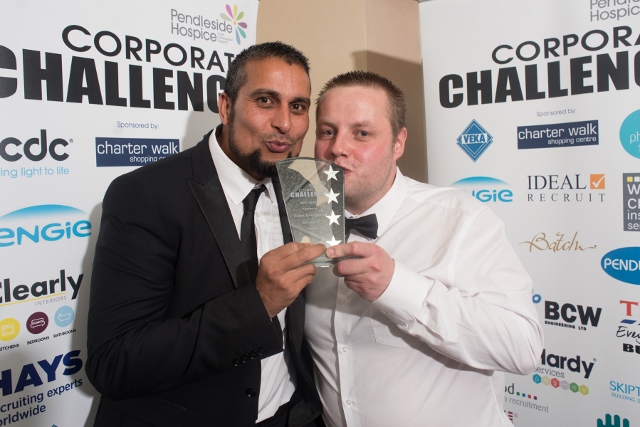 Best Event - Colne Tyre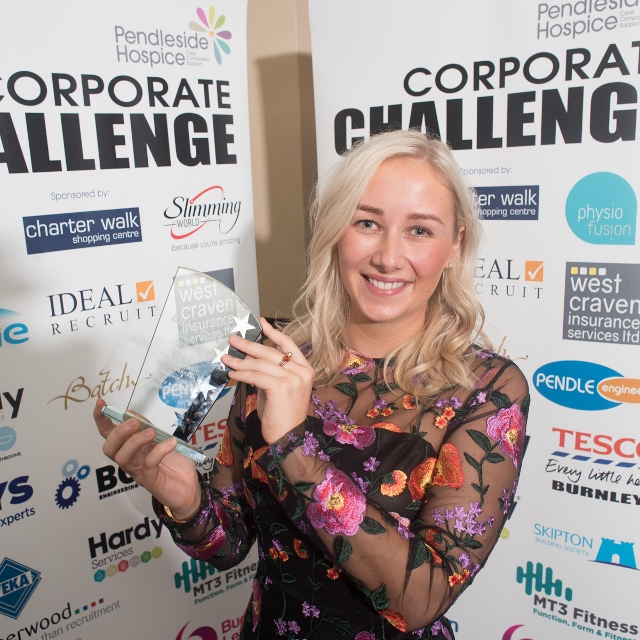 Fundraiser of the Year Centre Ellie Stockwell, Handelsbanken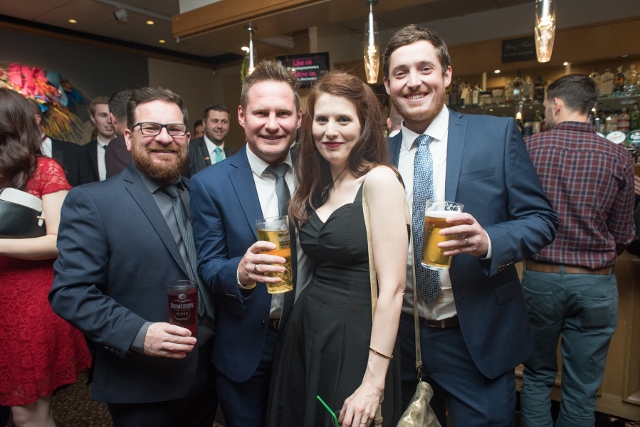 Engie Servies
Azhar & Matthew - Colne Tyre with Helen Binns, PM+M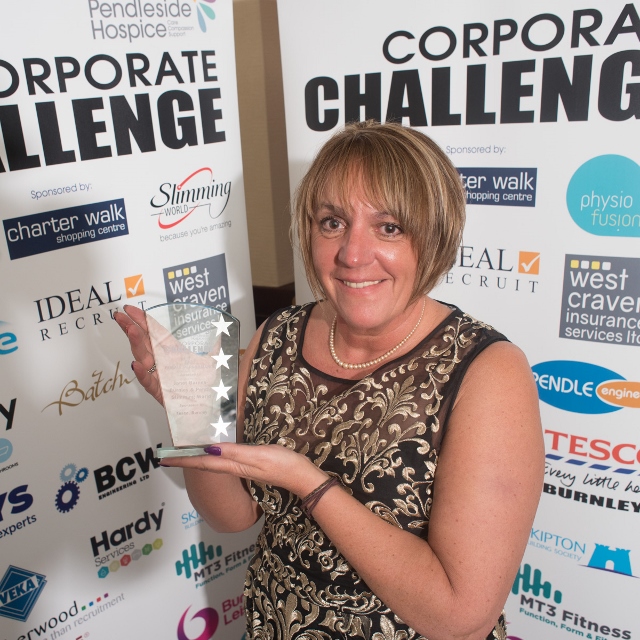 Best Female - Janet Barnes Handelsbanken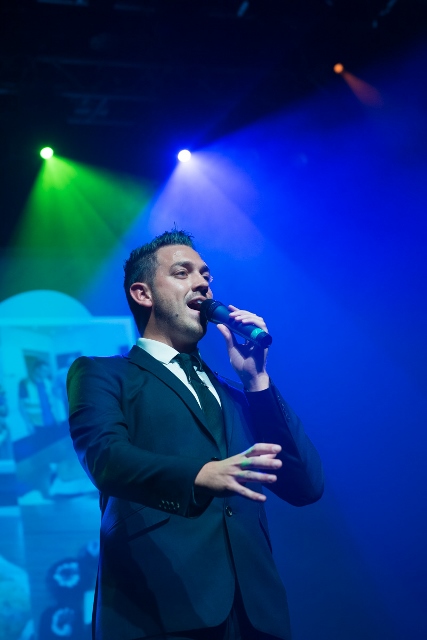 Entertainment by Josh Hindle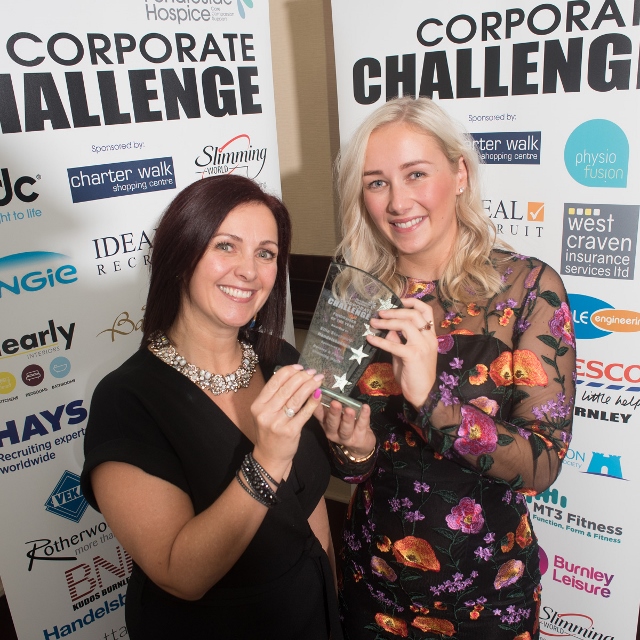 Ellie Stockwell, with Janine Bannister, Slimming World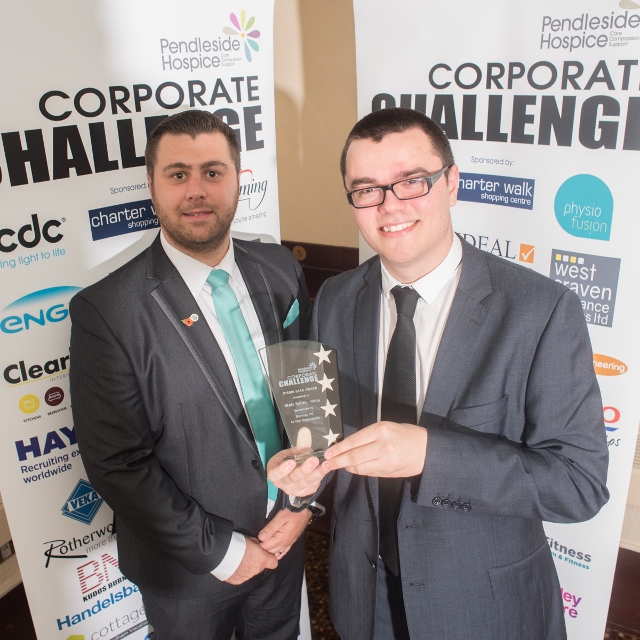 Rising Star Winner - Matt Smith, Veka with Ryan Bradley, Burnley FC in the Community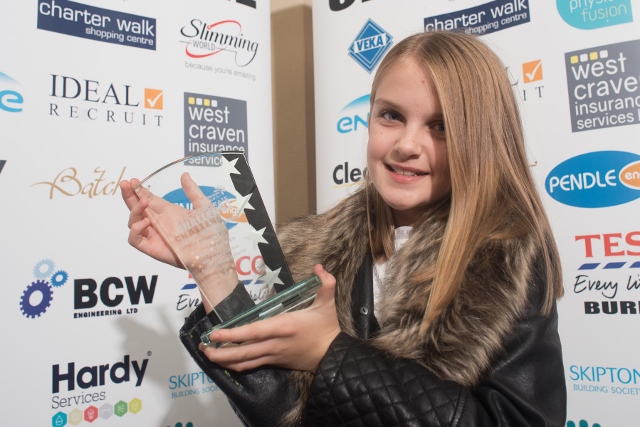 Judges Special Award - Kaila Kirwan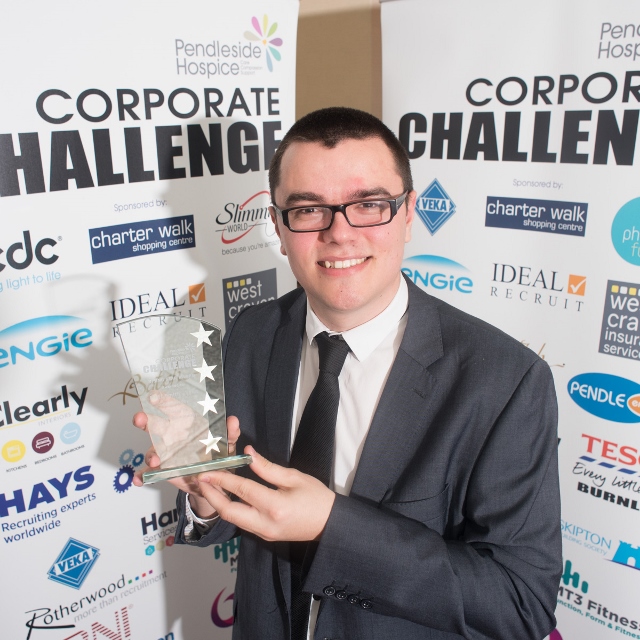 Matt Smith - Veka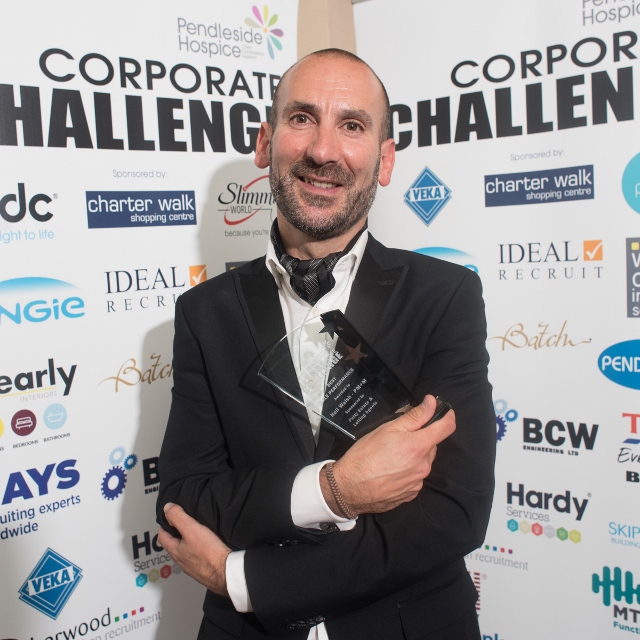 Best Male - Neil Welsh PM+M, Andy Gibb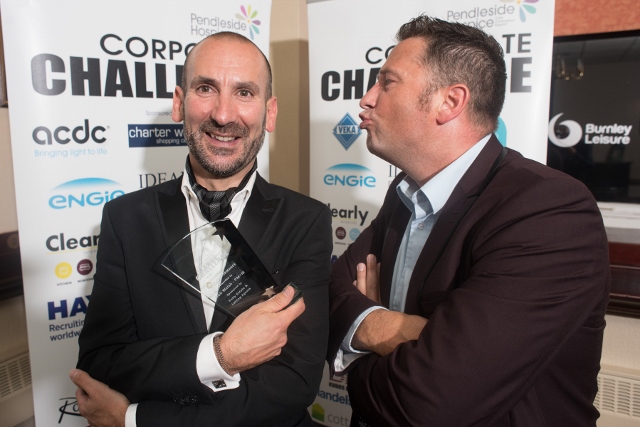 Neil Welsh PM+M with Ian Bythell Petty Estate & Letting Agents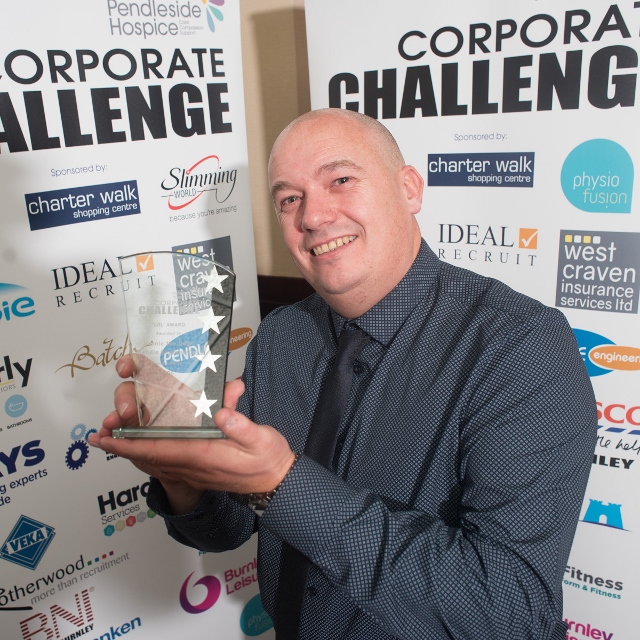 Innovation Award Winner - Pendle Engineering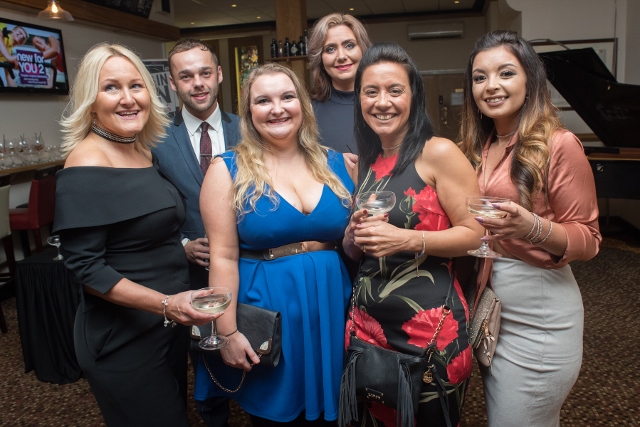 Rotherwood Recruitment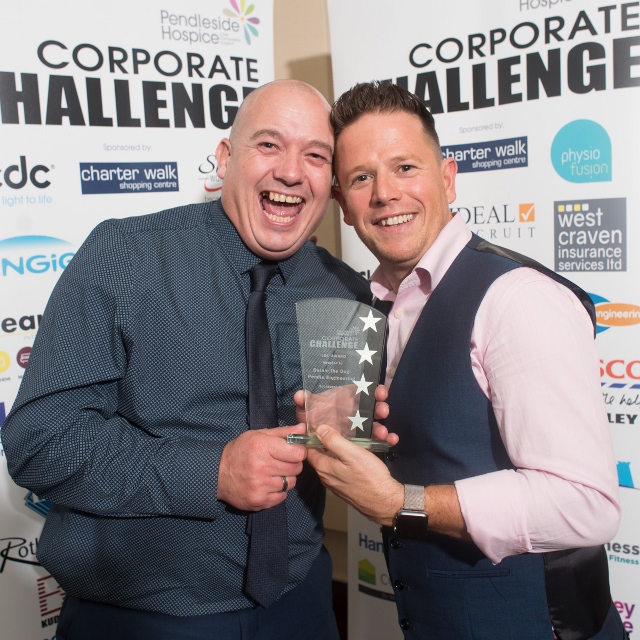 Andy Gibb from Pendle Engineering with Gareth Frankland, ACDC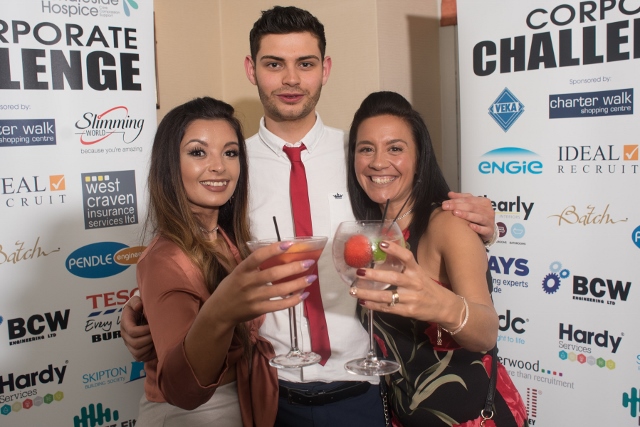 Rotherwood Recruitment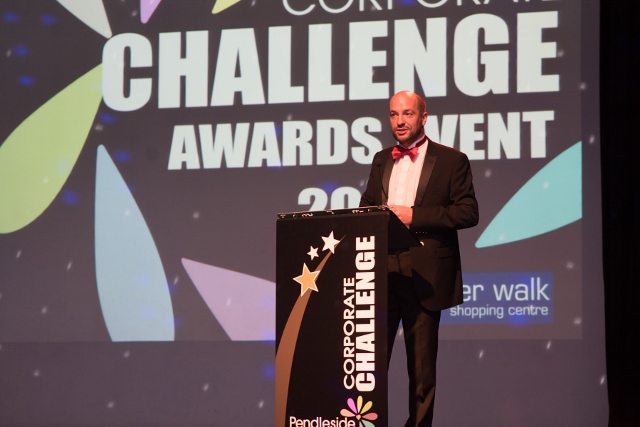 Simon Brierley from 2BR our host for the evening
#PendlesideCorp winner Kimberley Chapman from West Craven Insurance Services with Sam Keenan +24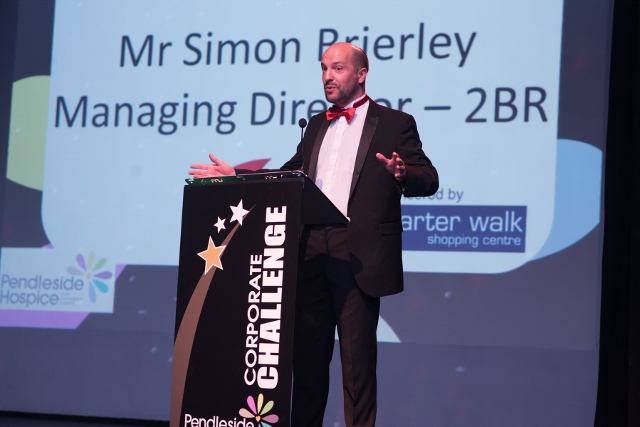 Simon Brierley, 2BR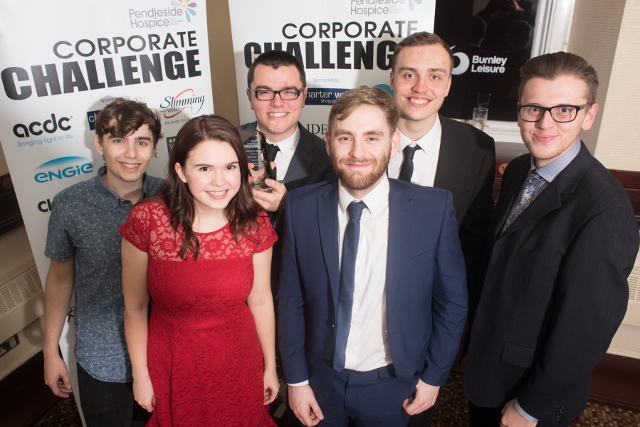 Best Newcomer Award - Veka Craven Insurance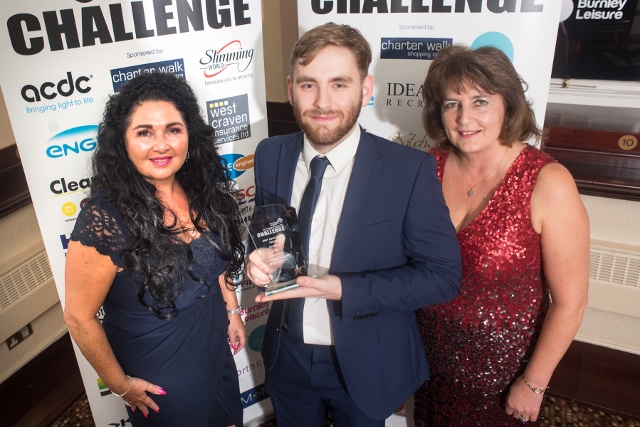 Veka representative with Maria Lee & Carolyn Booth, Business in the Community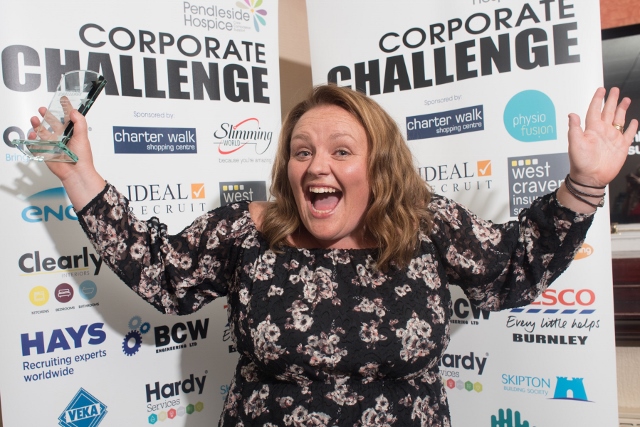 Kimberley Chapman, West Services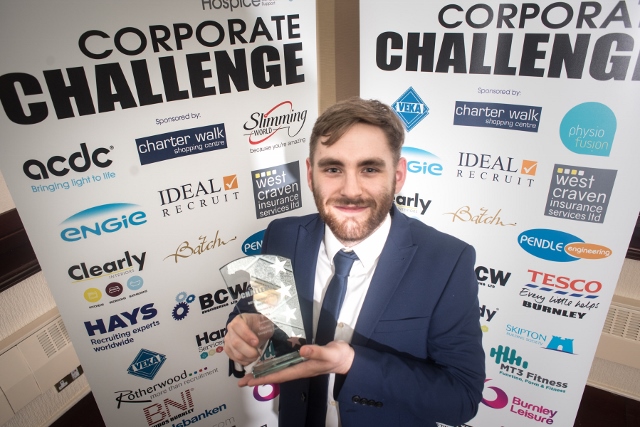 Representative from Veka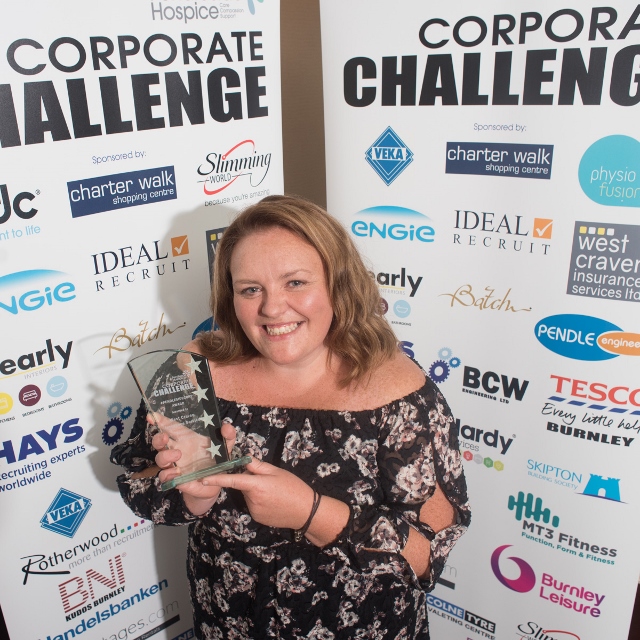 Kimberley Chapman, West Craven Insurance Services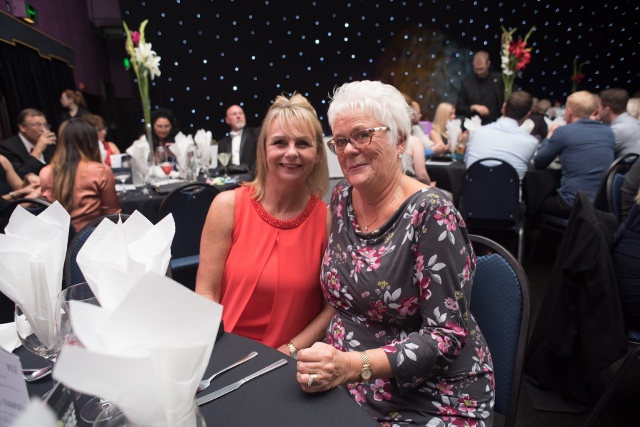 Fran & Jean Hospice Volunteers
Photos credit: Andy Ford