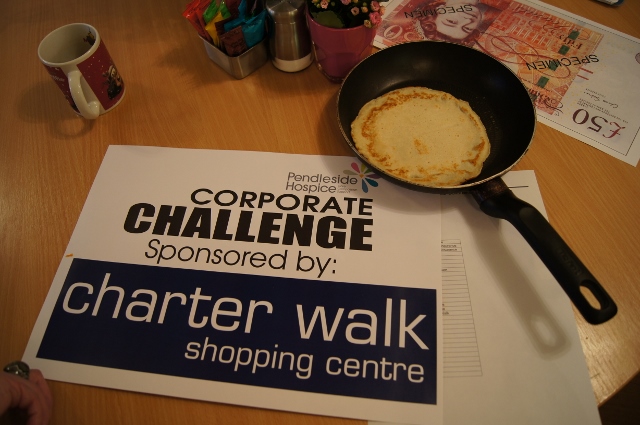 A fundraising battle among businesses in Burnley and Pendle to raise the most money for Pendleside Hospice has been launched.
Representatives from eight businesses which have already signed up for this year's Corporate Challenge, met at Pendleside Hospice this week to gear up for the four-month fundraising head-to-head.
The hospice is now calling on more businesses to sign up to take part in this year's event.
Each participating company will be given £50 donated by sponsor Charter Walk Shopping Centre in Burnley, which they have to try and turn into as much money as possible between 1st June to 30th September.
The challenge, which ran for the first time last year saw 26 companies take part to raise more than £85,000.
Last year Burnley and Pendle Slimming World took home the crown, raising £13,299. While the overall Corporate Challenge Champion was awarded to Petty Estate and Letting Agents for their continued effort throughout the challenge, including hosting a series of events including a rubber duck campaign which saw rubber ducks, sold for £1 each by Petty's, being photographed at various locations around the world.
All sponsor money raised will help to provide care for local people who are coping with a life-limiting illness at a time when they need it.
Fundraising suggestions include dress down days, bake sales, raffles or bag packing. You can also enter colleagues into one of the hospice's organised events such as the Pendle Pub Walk or Burnley 10k.
Billie Jean-Horne, Community Champion at Tesco Burnley said: "We had a great time taking part in the Corporate Challenge last year, so we were keen to get involved again. Last year we raised £5000, and we are hoping to match or better that this year.
"Being involved in the corporate challenge provides a number of benefits for businesses, it's great for team building as well as being a chance to give something back to a charity that has a place in the hearts of a lot of local people. It also provided us with an opportunity to network with other companies through regular breakfast meetings."
Jennifer Haigh, Educational Accounts Manager at Rotherwood Teachers, based at Parker lane, Burnley said: "This is the first time we've taken part in the Corporate Challenge and we are all really excited about it.
"We already have a few ideas in the pipeline such as penny drop and are looking at doing the Burnley Colour Dash and Tough Mudder."
A breakfast event is being held at Pendleside hospice on Tuesday March 21st at 8.30am for companies interested in signing up as well as those who have already signed up.
An awards event will be held in October where the winners from various categories will be announced.
If you think your organisation has what it takes to be Corporate Challenge Champion 2017 click here to sign up.